Ausletics
CrossFit

Gym Program
In Brea CA, Uses Simple and Effective Training and Instruction
Our philosophy around CrossFit training is simple. We believe that the movements, the training, and the instruction need to make sense. Whether you are a seasoned CrossFitter in Brea or the surrounding areas, or 100% new to the sport, the key to success is keeping the coaching simplistic and easy to understand. We break down the movements in such a way that anyone can understand them and everyone can do them. Even athletes who have been competing in the sport for years have come to appreciate our straightforward instruction – and have been able to re-learn proper techniques.
The Benefits

of Our Group CrossFit Training Program
But the best part of our training is that it takes the anxiety out of trying CrossFit for the very first time. Afterall, we don't believe that any sport should be intimidating. We will help you get past any doubts so that you can start to enjoy the benefits of CrossFit:
Improved Overall Fitness
Our CrossFit workouts improve strength, endurance, flexibility, and coordination, making CrossFit a well-rounded approach to your fitness health.
Increased Calorie Burn
The high-intensity nature of our CrossFit workouts will increase your calorie burn not only during your workout – but also after the workout!
Improved Body Composition
CrossFit helps build lean muscle mass while reducing body fat.
Increased Mental Toughness
CrossFit workouts help to develop mental toughness and discipline as well as provide you with the support you need to do activities you never thought possible!
Community and Support
Our CrossFit classes provide you with community and support to encourage you to do your best and help you stay motivated to show up and have fun.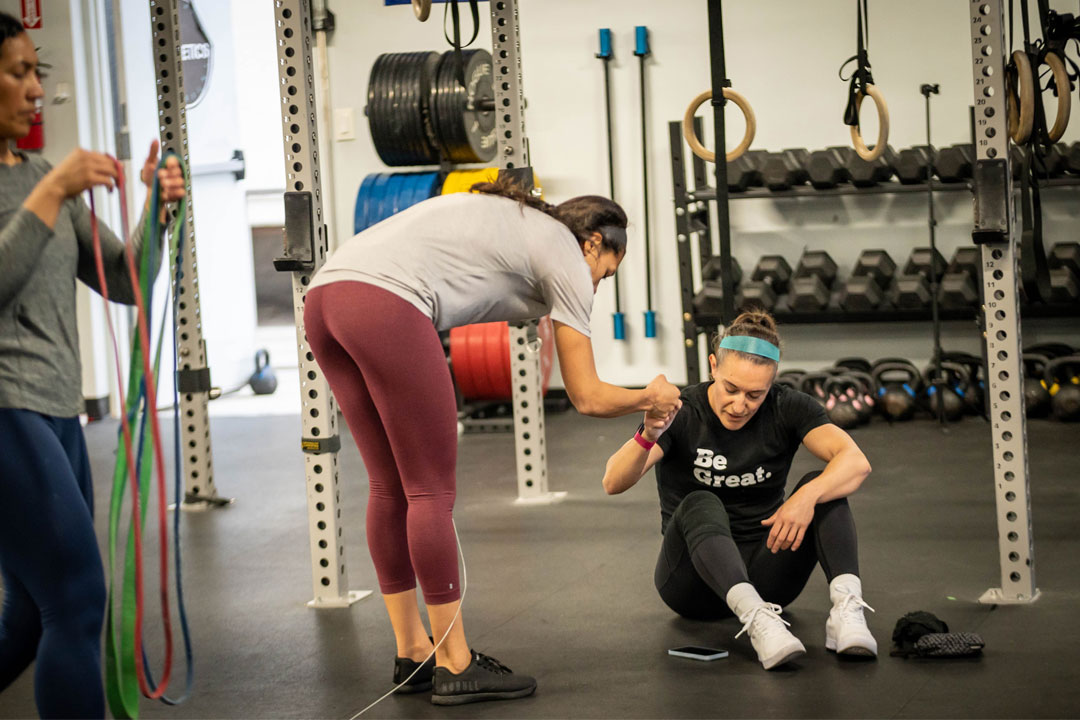 Overall, CrossFit improves every aspect of your fitness which includes improving your strength, endurance, flexibility, power, speed, coordination, balance, and accuracy. Our CrossFit programming provides a wide variety of exercises and workouts that challenge different parts of your body and can include using your own body weight, free weights, kettlebells, resistance bands, rowers, and other equipment. CrossFit training might also include exercises like pull-ups, squats, push-ups, box jumps, and sit ups. And with so many movements and variations – we promise you will never be bored!
Our workouts vary in intensity but are always effective, and are done in a group setting where you're encouraged to push yourself and support your fellow athletes. In our Brea gym, CrossFit isn't just a great way to improve your fitness, it is also fun and encouraging. Plus, our talented coaches are highly experienced and have both Level 1 & Level 2 CrossFit Certifications.
Our Group Training Program Offers
Expert Coaches
All of our coaches must pass a rigorous certification process before leading group classes. This ensures that you stay safe and injury-free.
Fun
After a while, you'll find that our workouts feel like a game. Many of our clients say that they look forward to coming to the gym for the first time in their life.
Community
Group training provides you with an instant network of training partners to hold you accountable and cheer you on when the going gets tough.
Results
Our routines are constantly varied, so you can do them for years without plateauing. This is a routine you can stick to day in and day out, which will give you the results you're looking for.
Ausletics
718 N Brea Blvd
Brea, CA 92821
Location
718 N Brea Blvd
Brea, CA 92821
Hours
Monday: 5 AM–7 PM
Tuesday: 5 AM–7 PM
Wednesday: 5 AM–7 PM
Thursday: 5 AM–7 PM
Friday: 5 AM–7 PM
Saturday: 8:00–10:00 AM
Sunday: CLOSED