The Ausletics CrossFit Story
About Ausletics CrossFit Gym in Brea, CA
I am extremely motivated to help people achieve their absolute peak health, fitness and well-being. I have extensive experience in the fitness industry, focusing on implementing versatile ways of training in order to accommodate each client's individual needs. After I completed my Fitness Diploma in 2006, I went on to complete my Bachelor of Human Nutrition at the University of Canberra in 2011. I have been a professional in the fitness industry for 10 years with accreditations in Exercise Rehabilitation, Aqua Training, Strength and Conditioning and CrossFit.
READ MORE
I'm a firm believer in incorporating a holistic approach that includes exercise and nutrition in order to enhance your well-being. Formerly, I played women's soccer professionally for 6 years. During this time, I played with Canberra United, Adelaide United and Melbourne Victory in the W-league.
My soccer career ended due to two consecutive ACL reconstructions. Since then, I have been dedicated to my own rehabilitation and also helping others achieve their personal goals. I've worked with clients ranging from elite athletes within their sport, to stay at home moms wishing to regain functional movement, and full-time employees with time-limiting factors. I've learned that great success doesn't come without first experiencing a great struggle. I strongly believe that achieving goals happens through various methods of training. I pride myself on helping people both through physical fitness and healthy balanced nutrition. My passion and drive have been formulated over the years of working with people who see such variable challenges, from time limitations, physical abilities, motivational barriers and much more that keep people from achieving the most healthiest and optimal well-being. I wish to lead with a strong presence, one that cannot be ignored, one that drives someone to want to be better, that allows an individual to look at themselves and see greatness, because they believe it can be done. I want to leave an impression that gets spoken about, that is identifiable and uplifts everyone that hears, and above all, be an essence of humility. I wanted to create a model that represents who I am and put that into a place that can speak volumes. I established Ausletics CrossFit in 2017 with a long and challenging road ahead to hold its first location in Brea, California. I strive to have a community friendly and fun environment that leads with all integrity and only encourages a positive, happy and healthy lifestyle.
Meet the Coaches at Ausletics CrossFit
Sharon R.
Coach
Sharon is a Level 2 CrossFit Coach and our leader in Weightlifting. With her extensive knowledge and detailed approach, she helps anyone become confident and comfortable with the barbell. She brings such poise to every individual and class she presents. Her unique smile is one that will be the most consistent sight you see when walking into Ausletics CrossFit.
Aree R.
Coach
Aree is a Level 2 CrossFit coach and very unique when it comes to mobility and her technical approach to moving the body. She has a strong presence and her energy is contagious. Every class is fun and exciting and she is always finding ways to challenge you and push you to achieve your goals.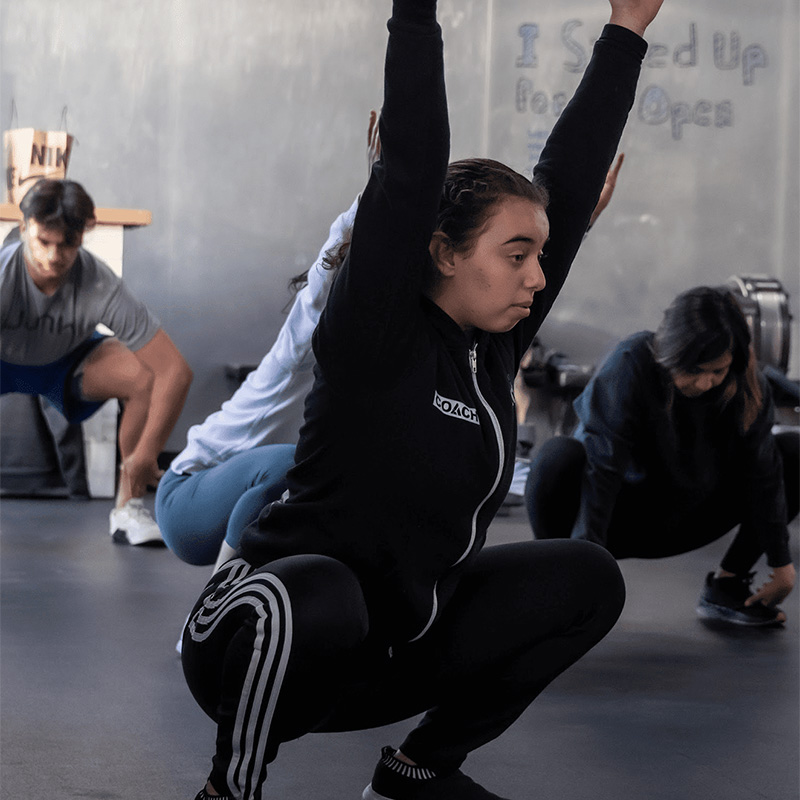 Lizzy R.
Coach
Lizzy is a Crossfit Level 1 coach and the star of the show. She exudes boldness and fun and is dedicated to making every person better every time they show up at the gym. She gives people all of her effort and attention, making you always feel seen and valued.
Ausletics CrossFit Clients See Incredible Results
Increased brain functions and boosted mood.
Improved energy and better health.
Increased metabolism, changes in muscle mass and overall fitness.
See-it-in-the-mirror results.
Compliments from friends/family and a healthier, more efficient heart.
Increased life expectancy, better bone density and mental heath.
Our CrossFit Gym in Brea, CA
Ausletics
718 N Brea Blvd
Brea, CA 92821
Location
718 N Brea Blvd
Brea, CA 92821
Hours
Monday: 5 AM–7 PM
Tuesday: 5 AM–7 PM
Wednesday: 5 AM–7 PM
Thursday: 5 AM–7 PM
Friday: 5 AM–7 PM
Saturday: 8:00–10:00 AM
Sunday: CLOSED
Getting Started is Easy at the BEST Gym in Brea, CA!